With the 2016 financial year just completed, thoughts are now turned to the need for compliance with year-end statutory audits and financial statements preparation.
For Charities, Associations and Companies Limited by Guarantee which are registered with the Australian Charities and Not-for-profits Commission ('ACNC'), questions are often asked as to what is required to ensure financial compliance and whom do you contact.
Nexia Edwards Marshall NT has produced the following guide to assist in ensuring compliance with the ACNC is met for the 2016 financial year.

Reporting Requirements with the ACNC
The reporting requirements of an entity that is registered with the ACNC is determined by it level of annual revenue.
The table to the right provides guidance for the information required to be submitted to the ACNC for financial compliance.
 
Financial Statement Requirements with the ACNC
Entities preparing financial statements in accordance with the ACNC can elect to either prepare General Purpose Financial Statements (GPFRs) or Special Purpose Financial Reports (SPFRs). The financial reports prepared must comply with relevant Australian Accounting Standards, provide a true and fair view of the entities financial position and performance and at a minimum contain the following:
Statement of Profit or Loss and Other Comprehensive Income
Statement of Financial Position
Statement of Changes in Equity
Statement of Cash flows
Notes to the financial statements
Responsible person's declaration about the statements and notes
Auditor's independence declaration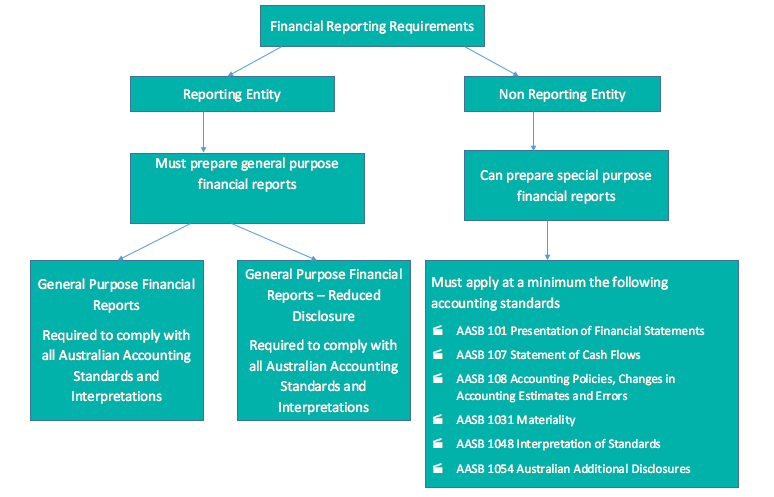 What if I previously reported to another Regulatory Body?
Companies Limited by Guarantee
Companies limited by guarantee registered with the ACNC now have ongoing reporting obligations with the ACNC and no longer with ASIC. This includes reporting annually to ASIC or providing notification ofcertain changes. The following link to the ACNC website provides a summary of when to contact the ACNC and when to contact ASIC https://www.acnc.gov.au/ACNC/Edu/CLG.aspx
Aboriginal and Torres Strait Island Corporations
Some Aboriginal and Torres Strait Islander organisations are registered as corporations under the Corporations (Aboriginal and Torres Strait Islander) Act 2006 (CATSI Act) which is regulated by the Office of the Registrar of Indigenous Corporations (ORIC). Entities that are registered under the CATSI Act as a corporation as well as the ACNC are still required to report to ORIC. If the corporation continues to meet all of the requirements under the CATSI Act and maintain its entitlement as a registered charity this will result in also satisfying the requirements of the ACNC. All changes to your entities information are still required to be reported to ORIC.
---
If you have any further questions in relation to your entities reporting requirements and financial reporting compliance then please contact Noel Clifford of Nexia Edwards Marshall NT.